Update Your Profit Alerts
Fast Profits
Fast Profits with Money Morning
Fast Profits with Money Morning is a free service that gives you a new trade recommendation every week, each with the chance to double your money or better. [Already a Member? Go here to access your trades!]
These trades have a 98% win rate, with peak gains as high as 297% in 30 days, 361% in 30 days, and 1,297% in just 20 days.
Each recommendation comes in a video from one of our trading experts. They give you easy-to-follow instructions on how to turn this year's 1%, 5%, and 10% share price moves into 50%, 100%, or 200%-plus profits – sometimes in as little as four days.
The next chance to make money will be out soon.
Click here to instantly be signed up for Fast Profits. You'll get an e-mail as soon as the next trade recommendation is released.
The Money Morning Stock VQScore™
The Money Morning Stock VQScore™ – derived from our proprietary valuation system – gives you a distinct advantage before you buy (or sell) a stock.
That's because it tracks the 1,500 most profitable companies on the market to find stocks that are priced to get you the biggest returns. [Already signed up? Go here to see our top-ranked stocks!]
Here's how it works:
The VQScore takes the most useful valuation strategies available and boils them down into one simple number. Knowing that one number will tell you whether to buy, sell, or hold a stock.
Specifically, the VQScore formula values a stock's earnings power and whether EPS is accelerating or decelerating. Then, it compares that to the momentum of recent demand for the company's shares and whether that's increasing or decreasing.
The higher a stock's score, the better.
A VQScore of 4.0 or higher puts a stock in the "Buy Zone." These are the stocks priced to make you money.

You can find a stock's VQScore on its profile page, which you can access via the search bar in the upper right-hand corner of your screen.
You'll instantly see whether or not your stock is in the "Buy Zone."
The Power of the VQScore
A stock's VQScore is determined by its position our Value Quadrants. Each Value Quadrant represents a different combination of a stock's value, demand, and growth prospects.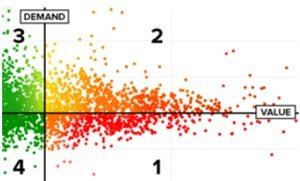 Stocks in Quadrant 4 – meaning they have a VQScore of 4.0 or higher – give you the best opportunity at the biggest returns.
Buying these shares is like picking up Netflix stock before it soared to today's record highs. A $1,000 investment in NFLX when it had a VQScore of 4+ would be worth more than $16,000 today.
Quadrant 3 stocks – which have scores ranging from 3.0 to 3.9 – are also undervalued. They do not have the market in their favor though, like those in Quadrant 4. That limits their future share-price growth.
Quadrant 2 stocks have scores from 2.0 to 2.9. A lot of these stocks are tied to healthy companies, but their shares aren't priced to give you the maximum returns. They are trading closer to their fair value and, in some cases, are about to fall out of favor in the markets. A lot of these stocks used to have a VQScore of 4.
Quadrant 1 stocks have scores of 1.0 to 1.9. They are both overvalued and out of favor in the markets. This means you are not buying strong future growth when you pick up these shares at their current price.

NOTE: When you see the "Warning" sign, it means that a stock did not meet our minimum criteria for profitability to get a VQScore. There are exceptions – some stocks without a VQScore can still make you money. Our investing experts will always let you know about those opportunities. And the VQScores can change every day as market conditions fluctuate, so check back on your stock soon.
You can see every stock's VQScore now and get the 25 stocks with the highest VQScores sent right to you each week. Just click here and enter your e-mail address.
Profit Alerts
Money Morning Profit Alerts
Frequently Asked Questions:
What are Profit Alerts?
Profit Alerts are the perfect way to stay up to date on all your favorite moneymaking topics. Whenever one of our recommendations, updates, or strategies aligns with any of the Profit Alerts you've selected, we send it right to your inbox via e-mail.
What do Profit Alerts look like?
Profit Alerts e-mails will appear from the sender "Money Morning Profit Alerts." See the image below for an example:

Don't forget to check out the latest opportunities we include at the bottom of each Profit Alerts message: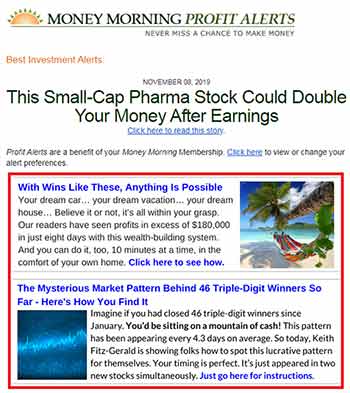 How do I choose my Profit Alerts?
You can simply scroll up on this page to select (or de-select) as many Profit Alerts as you would like. Just remember to click "Select Topics & Save" when you're done!
You can also update your Profit Alerts by clicking the Profit Alerts link on the homepage, moneymorning.com.

When will I get a Profit Alert?
You'll get a Profit Alert as soon as we publish a recommendation, update, or strategy relevant to your Profit Alerts selections.
That means the more Profit Alerts you choose, the more moneymaking updates you'll get.
Resources
Keep Calm and Trade – How to Make Money in This Bear Market, Tom Gentile: Tom Gentile, America's No. 1 Pattern Trader, cut his teeth on the Black Monday crash of 1987, and now he's bringing his world-renowned expertise to the current financial crisis. Click here to have Tom's trade recommendations sent right to you, and you'll automatically get his Power Profit Trades newsletter.
3 Cannabis Investing Strategies to Boost Your Profits Today, Don Yocham: Cannabis is the fastest-growing investment opportunity of all time. To be sent the best pot stock buying strategies and the names of two firms that pay you to own them, just click here – you'll also get a free subscription to the most powerful cannabis-investing tool available today: Cannabis Profits Daily.
How to Spot a Billion-Dollar Idea, Neil Patel: Finding the best companies before they hit the big time comes down to just four factors… and veteran angel investor Neil Patel has put them all in one video just for you. Get the video sent to you by clicking here, and you'll automatically be signed up for Neil's Startup Investor newsletter.
The 2020 Tech Outlook, Michael A. Robinson: 5G technology sits right at the heart of today's greatest innovations, from cloud computing to artificial intelligence. And the three stocks in this report are your best bet to profit from the 5G boom. To have the report sent to your inbox and to automatically get Michael's future Strategic Tech Investor recommendations, just click here.
Seven Market Illusions Hiding Real Profits from You, D.R. Barton, Jr.: The biggest headlines in the mainstream media today aren't giving you the real story. To see what's actually happening – and how you can profit – simply click here, and we'll send D.R.'s tell-all report right to you. You'll also be signed up for D.R.'s Straight-Up Profits newsletter so you can always see the truth behind the headlines.
---
E-Books
---
Courses
The Cannabis Investor's Masterclass: Three Simple Steps This Cannabis Millionaire Used to Make His Fortune
---
Essential Reading
You don't have time to sort through 10,000 titles on the web. So we've picked a couple of our favorites to help you get started.
*Money Map Press, LLC's Money Morning is a financial publication, and does not act as a personal investment advisor for any specific individual. Nor do we advocate the purchase or sale of any security or investment for any specific individual. Please Note: Money Map Press, LLC is not a broker, dealer or licensed investment advisor. No organization listed above should be considered as permitted to engage in rendering personalized investment, legal or other professional advice as an agent of Money Map Press.